that day, spotted 1 waja police car, that type waja doesnt have the pdrm sticker all round, just sticker of "POLICE" infront bonnet and rear trunk with police logo and code area...
yea this, was behind me...when i came out from junction, this car passby me and inside the driver and the wife staring me like the wife already laid with me like that....wtf!! the driver is not on duty, not in uniform...with wife lea, duty or not duty...
not important anyway...
police drive 100km/h, i was 80kmh, the driver and passenger the wife also not wearing any seatbelt...
i dont need to go their door i also can see from the side or behind of the car....
staring at me like i had murdered ur kid or murdered ur whole family like that...or rape ur daughter or ur wife...wtf...
i just driving so relaxing and all of sudden...wtf...
-------
last sunday just have short game with the pros...
my body not really kena, mostly all at my legs...coz of my flashy leg?? ==
all the palletes bounce to my leg when half squadding behind the air bunker....aduii...not fair lea...
but then that day purposely wear short pant for paintball...
short game, 1 pack of this 500 palletes still remain so much....
not really hav fun but abit entertaining and make my mood better for a short while...
dono wana ketuk my bro buy me facemask or not, and along a marker....
marker is name for the paintball gun... but then is expensive, only facemask is the most important and the affortable to get...
i feel wana get the Dye i4, for rm400++... @@ T.T
for markers i guess will be rm1k++ bah... so only possible to get is facemask lorr, and of coz must comfy and the lens wont get foggy...
i still not really afford to play this game, might be once a month nia......
that day cost me rm90, coz of i take 500palletes mar...
two "lovebites" on left and right, both leg too...only this left is the most visible and swollen...
when get shot right away can feel da pain but after that not anymore...
just cant wait to have another game...
i remember my most fun time was with two of my bros and my elder bro's fren...
my elder bro also a kind of gila guns(weapons) and shootings...
i guess whatever kind of gun he also know, those ww1 and ww2 weapon too...even the aircraft or ship or even the tank!!
mad kia, study medic as doctor but diff interest.... ==
from young, he just love play shooting games in comp...
then to arcade shooting games...
now i poison him, try paintball....but then his stamina is crap...lol
but he's more into airsoft, bb gun... not those chee qiong gai or jonker walk buy that kind of small kid play...
the airsoft im talking is something like this...reality toy gun, thats just similar to real gun, only shoot bb bullet...the body part, everything is with metal part, like i said reality toy gun but is not a toy lah...
is illegal in malaysia...
japan have this brand, Tokyo Marui...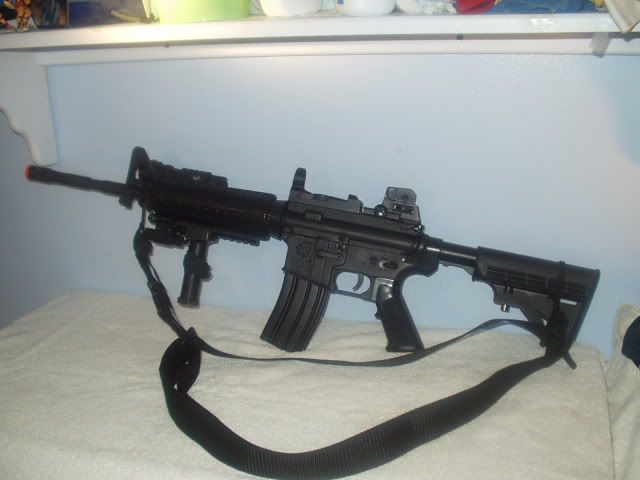 the most famous, ppl want it also... m4 or m16...bla bla...
im into the m4a1, also the ww1 M1grand rifle, the older version of m16...thompson sub machine gun also...
mp5...
darn nice...
this one is electric air rifle, stated at the box...
yeah, have electric too, gas blow back, or run with motor electric and gbb also have...
but my bro prefered gas blow back electric....
just only gbb, gas blow back need pump in the air/ gas, even after awhile it will have leakage...
tokyo marui just erm medium range, might have few plastic parts...i guess
but then those taiwan or china made, yes, plastic parts for the body, inside the gearbox the mechanical stuff is metal parts lah, so of coz will be cheap and unreal lorr...
no syok no ohhmmm to play...even bo syok when look at it...
and have high grade of airsoft too, those will be very expensive and truely is metal parts all round...
hiak hiak...
my bro just wait have free time to go thai nia...hmm i wonder there thai can get paintball marker or not...hmmm, if could find it, and cheap, might get it edi lorrrrrrrr